Westchester Broadway Theater is enchanting audiences with The Wizard of Oz
Published:

Thursday, August 21, 2014
By:

Michall Jeffers
Source:

Total Theater.com
It is altogether fitting that Westchester Broadway Theater is enchanting audiences with The Wizard of Oz. As legend goes, the author of the original book, L. Frank Baum, was told to "Follow the yellow brick road" to the William Henry Jackson military academy in Peekskill, N.Y. Baum was 12 years old at the time; he was not cut out for the military regime, and he became miserable at the institution.
In 1868, the road to the school, West Street, was indeed paved with yellow stones; now, it's an overgrown alley, and the story is much disputed. But it's pleasant to think that the lonely boy with a brilliantly creative mind transformed, in his imagination, the road that led to his dreary confinement into a magical pathway to an Emerald City.
The current production of "Wizard" is fun, and appropriate for all ages. Devon Perry is charming as Dorothy Gale, the Kansas farm girl swept into Oz by a tornado. She bears a resemblance to the young Judy Garland, and has a lovely voice. She manages to make "Over the Rainbow" seem fresh and original, no mean feat.
As her friends and fellow travelers, Tim Dolan, Chris Kind, and Jayson Elliott are quirky and amusing. Only the dog is practically somnambulant; wake up, Toto!
The sets and costumes are minimalistic, and at times there's a cartoonish vibe. But the show is set in the Depression era and evokes a time when it was important to carefully count every chicken. Dorothy's relatives are too busy concentrating on this task to pay attention to her concerns. The contrasting bright colors of Oz evoke the moment in the movie when audiences were treated to a switch from black and white to Technicolor.
Among the many delights in this production are the Munchkins, largely a troupe of children, who are adorable, and their brightly hued wigs in pink, lavender, green and blue add to the spirit of "We're not in Kansas anymore." Glinda, the good witch, floats in on a wire from above, amidst a shower of soap bubbles. I especially enjoy the apple tree ladies, who are chic and sexy. The audience cheers the tornado effect of the house being raised and blown around, complete with strobe lights and accompanying thunderous sound.
This is the 185th production of Westchester Broadway Theater, the longest running year-round Equity theater in the history of New York State. The next show will be the theater classic South Pacific, which is sure to be another hit for this cultural mainstay of Westchester county.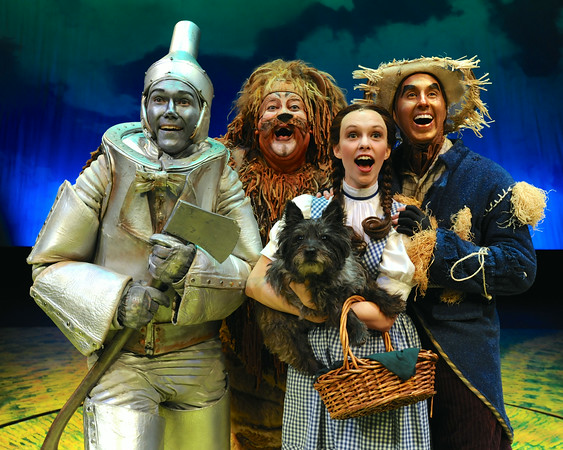 Cast: Devon Perry (Dorothy Gale), Nigel (Toto), Nadine Zahr (Aunt Em), Benjamin Dean (Uncle Henry), Tim Dolan (Hunk & Scarecrow), Chris Kind (Hickory & Tinman), Jayson Elliott (Zeke & Cowardly Lion), Nicole Tori (Almira Gulch & Wicked Witch West), Ken Jennings (Professor Marvel & Wizard), Michelle Dawson (Glinda)
Technical: Musical Dir: William Stanley; Set: Steve Loftus; Costumes: Tim McQuillen-Wright; Sound: Jonathan Hatton & Mark Zuckerman; Hair/Wigs: Gerard Kelly